Ginger Lemon Cookies from Actress Linda Evans
Gear up for holiday baking with Cooking Channel. Your favorite celebrities, chefs & Food People have opened their kitchens to share their best cookie recipes. From Cookie Monster's sugar cookies to Kelsey's Peppermint Meltaways, we'll keep you baking all season. Visit our All-Star Cookie Swap, then head over to FoodNetwork.com for great takes on holiday baking from Food Network chefs.
Actress Linda Evans is best known for her 9-year run as Krystle Carrington on the hit television series Dynasty – a role that earned her earned her five Golden Globe nominations and one win for Best Actress in a TV Drama Series, five People's Choice Awards for Favorite Actress in a Drama Series and one Emmy nomination for Outstanding Lead Actress in a Drama Series.
When we asked Linda if she would contribute a cookie recipe to our All-Star Cookie Swap, she gladly shared her Ginger Lemon Cookies recipe. These sunny little confections remind us a little of Krystle: sweet, spicy and a little tart – have you seen those epic catfights between Krystle and her arch-nemesis, Joan Collins' Alexis Colby? With a dollop of lemon curd nestled into seasonally-flavored dough, these cookies will surely be a bright spot on your holiday dessert table.
This recipe comes from Linda's close friend Gary – the father of her Goddaughter – and she can't get enough of the ginger cookie and lemon curd combo. "The cookie itself is very delicious," she describes. "But when I put lemon curd on it, I'm in trouble! It's light, delicious and very enticing on a holiday platter."
Over the past 50 years, Linda has stepped into the glamorous shoes of many fabulous characters – from Audra Barkley on The Big Valley in the late '60's, to an on-stage role in the play Legends opposite Collins in 2006 – and has even tucked that iconic hair underneath a chef's hat. In 2009, while working under Michelin-starred chef Marco Pierre White, Linda won the Hell's Kitchen competition in the U.K.
No slouch in the kitchen, Linda offers a piece of make-head advice for party-planners and bakers during this busy holiday season: "Simply store the plain cookies in an airtight container and then dust with powdered sugar and fill with curd just before serving!" (This'll come in handy when you're craving a second, not-soggy batch.)
Prefer more than just a little tart during the holiday season? Watch the catfight-to-end-all-catfights between Krystle and Alexis by the lilly pond. (Trust us, you won't be disappointed.)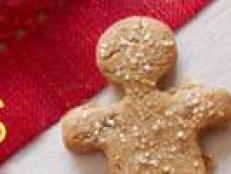 Add stem ginger (young ginger that's been preserved in a sugar syrup and canned) and lemon curd to white chocolate chip cookie dough for a spicy, citrusy take on a classically sweet cookie.