Pepperidge Farm's 75th Birthday: Cookie and Cake's Delicious Collision
Pepperidge Farm is combining two of our favorites, cookies and cake, to celebrate its 75th anniversary.
Put on your party hat and say hello to Pepperidge Farm's birthday present to itself: a pair of frozen cookie cakes. To celebrate its 75th anniversary of baking up some of America's favorite treats, Pepperidge Farm is releasing many new products. But it was these special cookie cakes that caught our attention.
This colossal dessert, "a two-layer moist cake with real chocolate chunks and rich chocolate icing and topped with chocolate chunk cookie pieces," promises to "deliver a premium frozen dessert experience." Whoa.
The name and box reminded us of the beloved Nantucket Chocolate Chunk Cookies. Since we like our cookies and cake with a tall glass of milk (and Nantucket Cookies are prime dunking candidates), we were convinced this was the cake to try over the Milano variety (those who have dunked a Milano to disappointing results know what I'm talking about).
The cake is everything it promises: chocolatey, moist, and rich. However, since the cake was thawed from frozen (as the box instructs), the whole cake had a slightly icy mouthfeel, resulting in diluted flavors. We liked the frosting the most, since it didn't succumb to sogginess like the cake layers and cookie crumbles. The cake will hit stores this month priced around $6.59 and serves 6-8, generously. It is certainly more cake than cookie and a much lighter dessert than the blondie-like, dense Mrs. Fields cookie cake. If cake is your go-to dessert, this cookie cake is for you.
Make Your Own Cookie Cake:
If these fabulous creations didn't exist and you HAD to pick one (the horror), which you would choose? Cookie, or cake?
More Cookie Cake Goodness: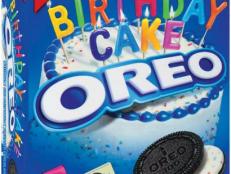 Celebrate Oreo Cookies 100th Birthday with Oreo recipes from Cooking Channel and Food.com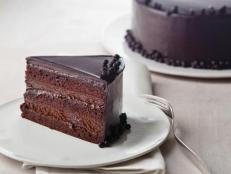 This edible masterpiece is from Sarabeth Levine. An orange-spiked cake is layered with whipped dark chocolate ganache and topped with a shiny chocolate glaze.