Meatless Monday: Roasted Cauliflower
Cauliflower may seem a little boring -- it's the least colorful vegetable out there. But what it lacks in vibrancy, it makes up for with versatility.
Meatless Monday is a global movement, a way of life. It's not a campaign to turn everyone in the world vegetarian or vegan; in fact, many involved are meat-lovers. Eating less meat has been proven to reduce the risk of disease, curb obesity and has important environmental impacts, too. Will you join us in giving up meat, just for one day a week?
My current food obsession: cauliflower. It seems random, and maybe a little boring -- it's the least colorful vegetable out there. But what it lacks in vibrancy, it makes up for with versatility. Cauliflower totally transforms into something new depending on how you cook it. Steam and puree it and it becomes so silky, you'll swear there's cream in it. Add the pureed cauliflower to soups, mashed potatoes or macaroni and cheese to thicken them and add flavor and creaminess without dairy. Bake it with cheese and cream for a hearty gratin that'll trump any potato casserole you've ever had. You can pickle cauliflower and add it to salads, appetizer platters or sandwiches -- it's especially good on falafel. Deep fry cauliflower and eat it as a snack, like popcorn, or toss the crispy, fried florets into a salad. Roast it -- on its own or with other vegetables, like carrots -- till it's golden brown and tender and serve it as a side dish or add it to pasta to make a complete meal.
I like to roast two large heads of cauliflower and eat some for dinner with pasta, and use the leftovers the next day in a frittata or omelet, with some Gruyere, sharp cheddar or Parmesan cheese. Leftover roasted cauliflower is also pretty great on a pita with some hummus.
3 tablespoons vegetable oil
1 tablespoon cumin seeds, coarsely ground in a mortar and pestle
1 head cauliflower, cut into florets
Kosher salt and freshly ground black pepper
1 tablespoon butter, quartered
1/4 cup panko (Japanese bread crumbs)
Preheat the oven to 425 degrees F.
In a bowl, toss the oil, garlic, cumin, cauliflower and toss to incorporate. Adjust the seasonings with salt and black pepper. Transfer the mixture to a baking dish, and dollop the top with little pats of the butter. Sprinkle the panko bread crumbs over the cauliflower. Roast the baking dish in the oven for approximately 20 to 30 minutes, or until the cauliflower is golden brown, and tender.
More Meatless Cauliflower Recipes: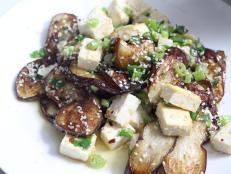 Vegetarians don't survive solely on tofu, but when we do eat it, it's flavorful, delicious and not at all boring.