This Cooler Brings 21st Century Amenities to Camping
The only problem with the great outdoors is the distinct lack of the kinds of stuff you can do in the great indoors. What if you want to enjoy a freshly made smoothie as you and a bear watch the sunrise together? What then? Well, thankfully, here's a cooler that lets you do that and more.
The Coolest (actual name) is a tech-friendly cooler that'll bring a little taste of civilization to your camping experience. Not only is it a working cooler, which is perfect for storing beer and soda, it's also a blender, cutting board, USB charger, Bluetooth speaker and, of course, bottle opener. It also has storage areas for plates and utensils, if you are into that whole eating thing.
Now the bad news. This modern marvel isn't out on store shelves. You'll have to pre-order a unit from its Kickstarter site, which has already raised over 80 times the funding estimate. The Coolest will set you back $185.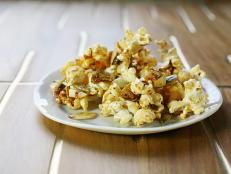 To help inspire your next glamorous weekend retreat, we've come up with some gourmet twists on camp food, from bacon, beer and cheddar-infused skillet corn bread to fish baked in foil (sorry, hot dogs) to classy s'mores in jars.