'Fried Chicken' Cookie Pop Cake
Before you think we've lost our minds by sticking fried chicken on a cake, give us a second. There's a new match for fried chicken in town — well, sort of. Next time you want to fool your friends, or you're going to a birthday party for a buttermilk-battered fiend, whip up a batch of faux wings for this incredible
"Fried Chicken" Cookie Pop Cake
. Blend white chocolate biscuits or any cream-filled cookie with cream cheese and mold the smooth mixture into ball and stick shapes. To create the look of a drumstick, pinch together the stick, the larger ball (for the meaty end) and a smaller ball (for the opposite end), then after they set in the freezer, ice the cookies with a cream cheese, butter and brown sugar icing. For the finishing touch, roll the wings in crushed cornflakes for the just-fried, crispy effect, and serve them on top of the cake with a spoonful of raspberry compote "ketchup" for dipping.
For more ways to fry up sweet desserts, check out these fried favorites from Cooking Channel: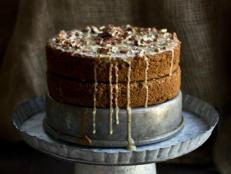 Get Cooking Channel's take on the best in food news, recipes and more from around the web, including recipes for buttermilk cake and spiral cut hot dogs.