Alie Ward and Georgia Hardstark
Alie Ward and Georgia Hardstark are best friends who met outside a tragically hip dive bar in Los Angeles. Fast friends, Alie and Georgia would meet for cocktails after work, with Alie a staff writer for the LA Times covering nightlife and events, and Georgia a part-time blogger and full-time suffering receptionist. They jokingly drafted plans on a cocktail napkin for a fictitious cocktail abomination called a McNuggetini, and made a farcical how-to video in their best vintage dresses. A viral hit ensued, with coverage in The New York Times, Time magazine, CNN and Perez Hilton alike.
They were approached by Food Network with the challenge of creating cocktails that were still fun — but palatable. The ladies went on to create two seasons of Drinks with Alie & Georgia, with 24 episodes of weirdly innovative cocktails, 12-year-old-boy humor and occasional blowtorches.
They're currently on-camera contributors for Cooking Channel's Unique Sweets, have appeared in several TV specials, hosted the show Tripping Out with Alie & Georiga and star in Cooking Channel's online Web series Classy Ladies with Alie & Georgia, in which they wear lovely dresses, pretend to be classy and take a culinary lesson in each episode.
They live a mile apart from each other in Los Angeles, and continue to confound people by being best friends with totally opposite tastes. (Alie prefers wine spritzers. Georgia loves beer. Alie's all about vegetables. Georgia's a carnivore. But both are dorks.)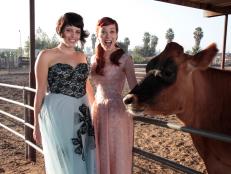 Get the recipes from our original Web series, Classy Ladies , where Alie Ward and Georgia Hardstark go on location and get lessons from the experts of the culinary world.