Get a Hold on Happy Hour with Hungry Girl
It's been a long day! You're tired, hungry and all you want is a drink. But you don't have to sit out at happy hour just because those cocktails and bar foods are loaded with calories and fat ...
Hungry Girl's got a whole handful of guilt-free ways to get your after-work party on:
Meeting up with friends at a bar? Hungry Girl's got you covered with a survival guide for enjoying happy hour, guilt-free.
for more tips and advice from this episode.
More episodes of Hungry Girl: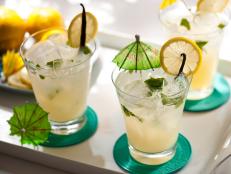 In honor of The Hangover Part III, Cooking Channel put together a list of the top five most-delicious ways to get a hangover.
Get spiked punch bowl recipes for party cocktails like rum punch, pineapple drinks and more summer cocktail recipes on Cooking Channel.