Rock Out with Nadia G. on Saturday, SIRIUS-ly
Sure, Bitchin' Kitchen host Nadia G. sizzles in the kitchen. But did you know she's got a mean playlist, too? (And the musical taste of several rock gods, plus three unicorns, combined?)
This Saturday at 7pm ET, your mistress of the kitchen is taking over SIRIUS Satellite Radio's Faction station (on channel 28), and hitting hard with a menu of tasty tracks. Be sure to tune in for fresh favorites and a head-bangin' good time.
And she promises: No plays from Canadian-fave Nickelback.
Afterward, check yourself into rehab with Nadia's Rehab Recipes , 11pm ET on Cooking Channel.
Recipes from the episode:
More from Bitchin' Kitchen: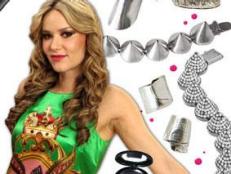 Rock This LookThis Christmas, Nadia G. is breaking all the fashion rules! She ditches that itchy holiday sweater with snowmen that ski for something a little more form-fitting! From a shiny red catsuit to a festive dress with a bejeweled bunny, the G-Star shows that holiday wear doesn't have to be boring!