On tonight's episode of The Originals, Emeril takes a quick vacay in Miami. He's not in search of the hottest new restaurants, but the classic spots that have served up quality food for decades. His first stop is the legendary Joe's Stone Crab in South Beach, where the meaty crab claws have been the thing to order (and wait in line for) since 1913. Emeril learns that the Key lime pie is also not to be overlooked at this institution.
Also on the menu for Emeril's visit: authentic Cuban food at Casa Larios and long-smoked ribs and chicken at the famed Tobacco Road, Miami's oldest bar. Emeril has such a great time in this sunny paradise that you might even catch him jumping in to play the drums with a local blues band.
Are there some Originals in your town that Emeril should visit? Let us know in the comments.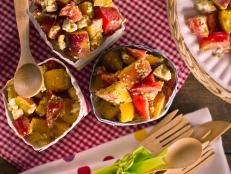 Break out the beach blanket and snack on these recipes that make beachside feasting a breeze.
Beach bound? Pack these delicious and portable foods in your cooler to extend your fun in the sun.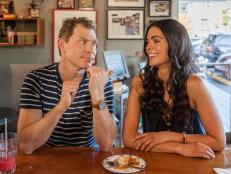 Go to all of Katie Lee's favorite beach restaurants in Florida, Puerto Rico and more locations.