Pecan Pie Pops For MLK Day
Although you couldn't go wrong by making this beauty, either:
But come on, how cute are these pie pops!? They're the perfect twist on the classic - perfect for any gathering.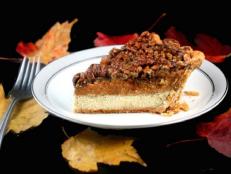 Recreate some of Thanksgiving's legendary hybrid creations like the turducken or churpumple cake with this Cheesecake Pumpkin Pecan "Chumpecan" Pie.