Cooking Channel Hits the Road With Summer Eats
We're celebrating our second birthday (and summer!) with a road trip. Catch up with Cooking Channel as we hit the road with our Summer Eats pop-ups. We'll be stopping at five cities around the country.
See if we're coming to your town
Find out where you can meet G. Garvin, Eden Grinshpan and Baron Ambrosia
Enter for a chance to win tickets to the New York City Wine and Food Festival
Here's a sneak peek at the food we'll be serving: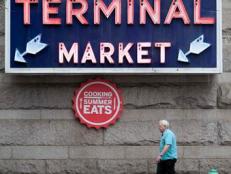 Cooking Channel's Summer Eats Pop Ups headed to Philadelphia's historic Reading Terminal Market this past Thursday. Check out photos from the event.