Thirsty Thursday: Have a Horchata
Ingrid Hoffman makes her Horchata Mexican-style, with rice as the base. Vanilla and cinnamon add sweet, aromatic flavors.
It's more than just alliteration; it's a statement, a proclamation that Thursdays are when the weekend should really start. Kicking it off right is the key, and what better way than with a cocktail that not only takes the edge off, but tastes good too. A hard thing to disagree with, we know. Drink up, get down and go to sleep happy.
Haven't heard of horchata? It's a grain-based, milky drink made in various parts of Spain and Latin America. Ingrid Hoffman makes hers Mexican-style, with rice as the base. Vanilla and cinnamon add sweet, aromatic flavors. Think of it as a rich man's White Russian, souped-up with spice but still teetering on delicious milkshake territory.
1 cup uncooked long grain white rice
2 teaspoons pure vanilla extract
1/2 teaspoon almond extract
1/2 teaspoon ground cinnamon
Whole cinnamon sticks, optional, for serving
In a blender, combine the rice and warm water. Blend for 1 to 2 minutes until the rice breaks up but does not form a powder. Let the rice mixture stand in the refrigerator for 6 hours or up to overnight.
Strain the rice mixture into a container through a fine-mesh sieve or several layers of cheesecloth to remove the rice solids.
Pour the rice water into a blender and add the milk, vanilla and almond extracts, cinnamon, and sugar. Blend for 1 minute until well combined and smooth. Serve the horchata over ice with cinnamon sticks as stirrers.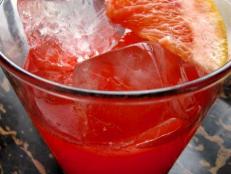 Cooking Channel's Beer and a Ball cocktail offers variety, but it will also help you hold onto the traditional values of beer-filled Oktoberfest.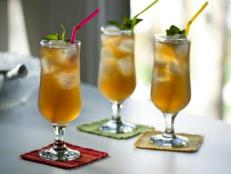 Sip on Michael Chiarello's refreshing Coney Island Iced Tea, made with sweet orange liqueur, tart lemon juice and fresh mint.