The World's Best Peanut Sculptures of Elvis Costello, Andy Warhol and Wonder Woman
A Cincinnati-based artist named Steve Casino paints peanuts to look like famous characters, both real and fictional. Steve says that one day he was eating peanuts when he noticed one with a similar shape to his own body. He drew a crude self portrait on it and an obsession was planted. Now his catalog has spread to about 30 highly-detailed pop culture icons. Steve will even paint a legume to look like you if you're willing to shell out at least $175.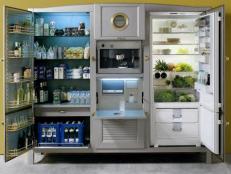 Check out a gigantic mega-fridge that has a coffee maker, steam oven and HDTV attached.