What to Watch: A New Season of Kelsey's Essentials
Tomorrow, Wednesday July 3, Cooking Channel brings you a brand new batch of must-have kitchen know-how with the season premiere of Kelsey's Essentials airing at 8:00pm ET. This sizzling first episode follows Kelsey on a heat-seeking mission for fiery foods at the first annual Hot Sauce Expo. There she finds spicy inspiration for her own savory recipes, including a homemade Fresno pepper sauce to pair with her Spicy Kale Caesar Salad, complete with hot sauce croutons. Join her in the kitchen tonight and see if you can stand the heat radiating off the screen.
Get fired up for the new season with a few of Kelsey's especially spicy recipes: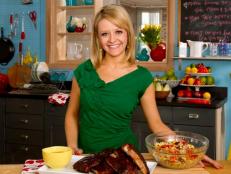 Kelsey Nixon returns to Cooking Channel for season 2 of Kelsey's Essentials. She shares her essential recipes, tips and techniques that will make you a pro in the kitchen.