Hump Day Snack: Mummy Meatloaf
Halloween's lurking just around the corner, so if you've already overdosed on your monthly quota of candy corn and need something savory to take the edge off, try a yummy mummy meatloaf on for size. It's just as simple as baking up your go-to meatloaf recipe and wrapping the whole lot in a tangle of cooked wide pasta like pappardelle. Add some mozzarella and kalamata olive eyeballs for a finishing touch, and you've got a mummified main to counter those king-sized candy bars you just ate. Maybe even go a little ghoulish and serve it with a side of mashed potato ghosts, appropriately whipped into spectral mounds.
Click here to get to the meat of the recipe and scare up more savory Halloween selections from Cooking Channel's spooky archives: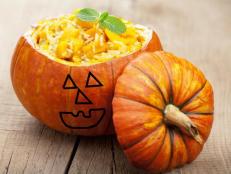 Pumpkin gets a lot of love in the sweet category. And happy as we are to dive into pumpkin pie, today we are championing the savory side.