Sweets Week on Cooking Channel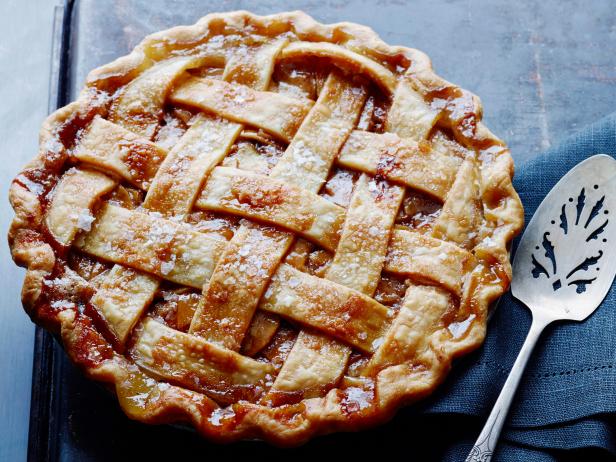 FOUR AND TWENTY BLACKBIRDS SALTED CARAMEL APPLE PIE Melissa and Emily Elsen Unique Eats/Desserts Cooking Channel Butter Pie Crust, Salted Caramel, Sugar, Unsalted Butter, Heavy Cream, Sea Salt, Apple Filling, Lemons, Apples, Apple Filling Seasoning, Raw Sugar, Flour, Ground Cinnamon, Ground Allspice, Nutmeg, Angostura Bitters, Egg, Mandolin, Pastry Brush
Matt Armendariz, 2014, Television Food Network, G.P. All Rights Reserved.
With fall in full swing and Halloween just around the corner, it's that time of year when our sweet tooths start calling to (or yelling at) us. After a long, hot summer, we happily remember what it feels like to turn our ovens on and experience the joy of baking, we visit orchards and patches to stock up on apples and pumpkins that will inevitably be made into crispy crumbles and pies, and we inwardly jump for joy when we see the fun-sized trick-or-treat candy bags appear at our grocery store. Whether it's decadent cakes and pies or little wrapped candies you crave, Cooking Channel's Sweets Week has everything you need to satiate your dolce desires.
Then, on Monday at 10pm ET, forget what you thought you knew about gingerbread houses, because gumdrops are out and ghosts and ghouls are in! Watch as four pastry chefs battle to make the creepiest Haunted Gingerbread House on a special (and spooky) Halloween-themed episode of Food Network Challenge.
On Thursday, starting at 7:30pm ET, tune in to an Unwrapped marathon of all things candy. Watch Marc Summers go behind the scenes to get the scoop on how scary treats like wax fangs and gruesome gummies are made; then he visits the factories that make famous candy classics, like M&Ms and Smarties.
And of course, a week of sweets wouldn't be complete without a big dose of chocolate. Kick off the weekend by indulging your dark side Friday at 8pm ET with Alton Brown's Good Eats Special on dark chocolate, where he reveals the ultimate rich recipes for hot chocolate, chocolate mousse and Rocky Road Bark.