Hump Day Snack: Igloo Cake
Polar vortex in the house! If you're lucky enough to be huddled inside your well-heated home right now, embrace the general state of frigidness outside by crafting this arctic tundra-inspired dessert. With all the temperature record-breaking going on this week, it's just another excuse to celebrate with cake, and let's face it, winter can always benefit from more cake. Use half a donut for the doorway, ice cream cones for sparkly shrubbery and round out your edible igloo with icy tiles of sugar-crusted white chocolate. Take that, weather. Get the recipe for this eskimo-friendly cake and then cozy up with some of Cooking Channel's comforting winter recipes: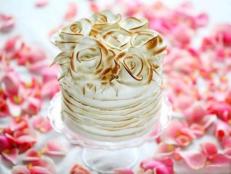 This stunning cake is bright and cheery, both in presentation and flavors. It's perfect for Mother's Day!