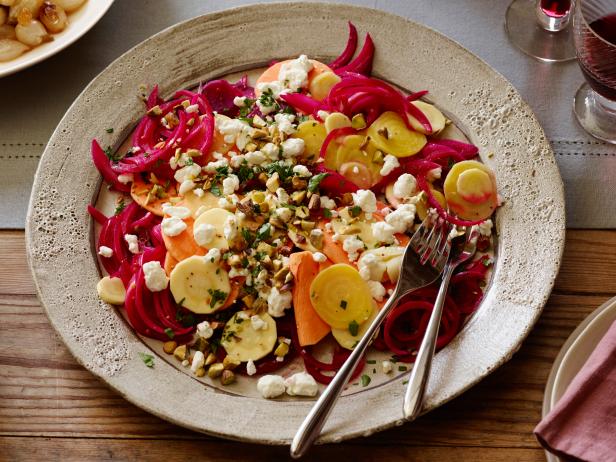 Pickled Root Vegetable Salad
PICKLED ROOT VEGETABLE SALAD Kelsey Nixon Cooking Channel Golden Beets, Parsnip, Sweet Potato, Red Beets, Red Onion, Apple Cider Vinegar, Sugar, Kosher Salt, Mustard Seeds, Celery Seed, Whole Black Peppercorns, Garlic, Goat Cheese, Flatleaf Parsley, Pistachios, Olive Oil, Mandolin Slicer
Matt Armendariz, 2014, Television Food Network, G.P. All Rights Reserved.
Several months into one of the worst winters we've seen in a while, I've been noticing a collective hostility growing around me. Yes, I live in NYC and people are supposed to be pushy and rude all the time, but we're not. I swear. People on the subway who would normally hold a door for one another are pushing fellow riders out of the way. So what's behind the bad attitudes? I'm no psychologist, but I think it's the weather. We can really only handle so many layers of clothing, snowstorms and days in a row of temperatures hitting the midteens before we start to get a little cranky.
With Valentine's Dayhere, the most we can do is spread a little love to ourselves and hope that other people start catching the love bug. The best way I know to do this is a homey and comforting winter meal to warm me up from the inside out. At the center of these meals you'll often find a few parsnips, which are at their peak throughout the winter. Parsnips are cousins to carrots, with the same woody texture as and similar flavor to turnips, and are often used in a manner similar to potatoes.
Pull on your snow boots, pick up some parsnips and get some love cooking in your kitchen.