Sifted: Creme Brûlée Cheesecake Bars, Homemade Samoas + more
Creme Brûlée Cheesecake Bars from Cooking Classy
5 Hot Links We're Loving:
4. Girl Scout cookie season is in full swing. If you can't get your hands on a box (or 10), satisfy your Samoa cravings with a batch of Southern Fatty's coconut-and-caramel-covered donuts.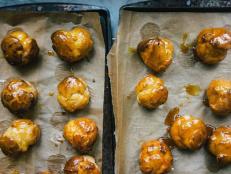 This week, blogs are buzzing about hot-hot-hot veggie buffalo bites, crackly crème brûlée cream puffs and more.