Survive the Academy Awards with Alie & Georgia's Quick Bar Tips
By:
Cooking Channel Staff
The Academy Awards are three hours long. The night is usually filled with a lot of crying and crushed aspirations -- and don't get us started on what goes on at the actually ceremony. Raise the bar for everyone surrounding your TV with Alie & Georgia's tips on the best booze and mixers:
[SNAP path="videos/quick-tips-for-your-bar" vid="0190444"]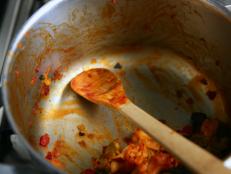 Cooking Channel shares secrets on how to get burned food off of pans quickly and making cleaning easier.