Hump Day Snack: Christmas-in-July Peppermint Ice Cream Cake
It's the most wonderful time of the year: Christmas in July, when rather than pining for yuletide regulars like eggnog, snowmen and candy canes, we dive into the festive Peppermint Brownie Ice Cream Cake that lets us celebrate both. The cool and velveteen ice cream is made without an ice cream machine using cream cheese, airy cool whip and a touch of minty flavor. Slather the ice cream between layers of decadent, chewy brownies to create a tower of chocolatey, candy-cane goodness, then drizzle chocolate sauce in every crevice for even more flavor. Finish the cake with a sprinkle of chopped candy canes and tiny swirls of whipped cream on top to resemble the frosty snowcaps of December, and serve this pretty peppermint party-pleaser with Christmas-in-July cheer. 'Tis the season!
Check out more of Cooking Channel's recipes that transform winter's best comfort foods into picnic-ready summer dishes: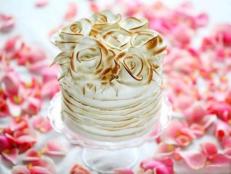 This stunning cake is bright and cheery, both in presentation and flavors. It's perfect for Mother's Day!