An Indian Feast Inspired by The Hundred-Foot Journey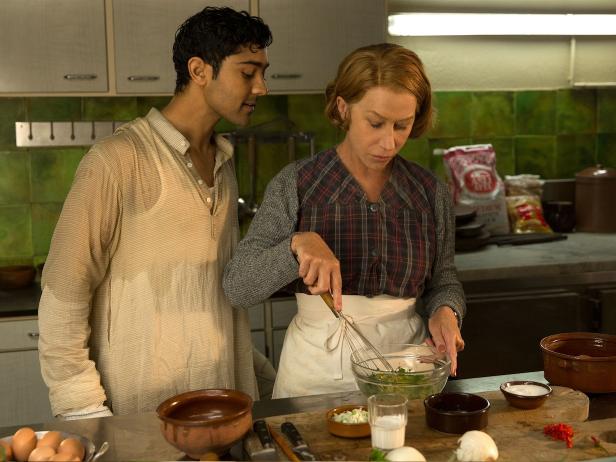 THE HUNDRED-FOOT JOURNEY
Hassan Kadam (Manish Dayal) and his family move from India to a village in the South of France, they open a restaurant and encounter Madame Mallory, (Academy Award-winner Helen Mirren) the chef proprietress of a classical Michelin-starred French restaurant across the street.
Francois Duhamel, ? DreamWorks II Distribution Co., LLC. All Rights Reserved
Within minutes of the start of The Hundred-Foot Journey, regular buttered popcorn will cease to be enough. The film is a two-hour bonanza of spices, simmering curries, sauteed vegetables and roasted meats, so no ordinary concession can possibly stand a chance.
The movie, directed by Lasse Hallström of Chocolat, follows a displaced Indian family from Mumbai to London to the south of France, where they confidently open a spirited, eye-catching Indian restaurant. Madame Mallory (Helen Mirren) runs the classic Michelin-starred French stalwart across the street, and is less than pleased by the newcomers. Starring alongside Mirren and her rival Hassan (Manish Dayal) is the food itself, which leaves a mighty enticing impression. Dayal trained in Paris and at several restaurants in the south of France to gain an understanding of culinary techniques and kitchens, and chef Floyd Cardoz served as a culinary consultant.
The attention to detail worked: The resulting film is nearly guaranteed to make you crave Indian food. So before you get tickets, have ingredients ready to make your own Indian feast (or, better, have an Indian feast made and waiting for you when the movie ends).
Here are a few of our favorite Indian dishes to get you started.