Hump Day Snack: Soft Pretzels for Oktoberfest
You don't have to fly to Germany or even attend an Oktoberfest party to get the authentic experience. Channel the spirit of a Bavarian beer hall at home with this recipe for homemade soft pretzels. Start your from-scratch dough with yeast, sugar, white flour, baking soda and butter, leaving time to let it rest and double in size. When the dough is ready, roll each piece into a rope and form it into a pretzel shape. (Perfect pretzel tip: Make a smiley face holding the ends of the rope, cross them over each other and press them down to connect at the bottom of the "U.") Then bake them and prepare some spicy mustard and also perhaps sausage, schnitzel and an ice-cold stein of German beer.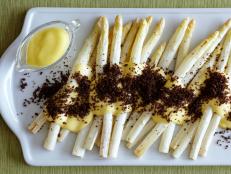 Celebrate Oktoberfest vegetarian style with Cooking Channel's Roasted White Asparagus with Sauerkraut Hollandaise and Toasted Pumpernickel Breadcrumbs.