Take a Taco Trip with Aaron Sanchez
By:
Cooking Channel Staff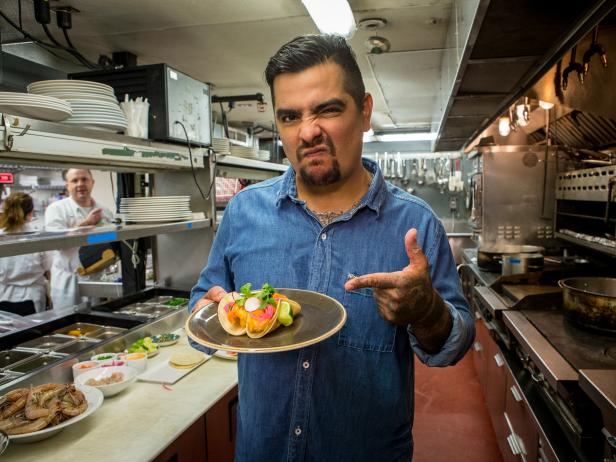 Chef Aaron Sanchez with his signature Crispy Gulf Shrimp tacos with fresh Louisiana Gulf shrimp, chili mayo, cilantro, and pickled vegetables on a corn tortilla, one of the dishes on the menu at Johnny Sanchez, a taqueria in New Orleans, a collaboration between chefs Aaron Sanchez and John Besh as seen on Cooking Channel's Taco Trip, Season 1.
Skip Bolen, 2014, Cooking Channel, LLC. All Rights Reserved.
Tonight at 9:30pm ET, Chef Aarón Sánchez -- the badass Mexican dude you see on Chopped every time you turn on the TV -- is heading out on a simple mission: to stuff himself with the best tacos in the country, every week, one city at a time, from the sophisticated to the mom-and-pops.
His Taco Trip begins in a place you might not associate with tacos, but is home to the country's fifth largest Hispanic community. Tune in to meet the chefs, families and locals who have helped define Chicago's culinary landscape. Or check back here tomorrow to watch the full episode for free online.
The co-star of the hit series Heat Seekers and Food Network AND rsquo;s Chopped Aar AND oacute;n Sanchez is the executive chef and co-owner of Centrico Restaurant and Mestizo By Aar AND oacute;n S AND aacute;nchez. He is also the culinary visionary behind Tacombi Tacqueria and Crossroads at House of Blues.
Watch the Taco Trip Season 2 premiere episode online now for free.
Get unique taco recipes using fish, pork, beef and seafood.