Summer TV Preview: Bobby Dean Reinvents Junk Food and Sherri Shepherd Is Holy & Hungry
As the weather heats up, you have the perfect excuse to kick back and watch your favorite TV shows in the comfort of an air-conditioned home. In addition to some returning favorites on Cooking Channel like brand-new seasons of Taco Trip, Man Fire Food and My Grandmother's Ravioli, we're welcoming some new faces to our summer programming.
Prepare to indulge in some healthy spins on comfort food with Bobby Deen and Nikki Dinki on Junk Food Flip, satisfy your inner carnivore with a country superstar on Steak Out with Kix Brooks and put your faith in actress Sherri Shepherd's love of food on Holy & Hungry. There's a lot on the horizon, so sit back, relax and get ready for a food-fueled summer of cooking and eating.
Join Bobby Deen and Nikki Dinki as they travel the country finding the most-indulgent guilty-pleasure foods and giving them a healthy overhaul. The twist? If locals think their rendition is better than the restaurant's original, it goes on the menu. If not, the owners win cold, hard cash (and serious bragging rights). Check out the newest showdown starting June 2 at 9pm ET.
If you love Thai and Japanese food, try expanding your horizons with Malaysian cooking. Host Christina Arokiasamy will show you classic dishes and unique spins on tried-and-true recipes. Tune in for the special on June 21 at 10am ET.
Country music superstar Kix Brooks (of Brooks & Dunn) is a cowboy who knows his ribeye from his sirloin. Travel with him across America as he stops by some of the country's best steakhouses, from those serving traditional fare to those specializing in upscale modern cuisine. Catch the mouth-watering series premiere on July 14 at 9pm ET.
The Great Chicken Wing Hunt
How far would you travel for the perfect chicken wing? Upstate New York native Matt Reynolds went on a hunt that spanned 2,627 miles and 284 varieties of wings to locate it. You'll have to check out the special on July 5 at 8pm ET to find its magical location and flavor.
Party with Haylie Duff as she hosts her annual beach shindig. Since she's eight months pregnant this time around, getting from the creamery (for freshly-churned ice cream) to the kitchen to the sand isn't as easy as usual, so she'll have the help of her family and friends to put together an epic bash filled with incredible food and fun. Check it out on July 19 at 8pm ET.
Mo Rocca is back for more fun with grandmas and grandpas across the country, making dishes like matzo ball soup, goulash, and good ol' Texas BBQ. We'll even see him get some hunting lessons in Season 4, which kicks off on July 29 at 8pm ET.
Barbecue gets some fun twists in Season 4 as Roger Mooking tries dishes like a pork chili and pulled pork wrap in Michigan and finds one of the biggest grills we've ever seen in Texas. Tune in starting July 14 at 8pm ET to see which fiery cities he ends up in this season.
In Season 2, Noah Cappe tries even crazier carnival cuisine across the country. With deep-fried concoctions and all sorts of unexpected sweets and treats, you'll want to check out his latest findings when the new season premieres on July 16 at 10pm ET.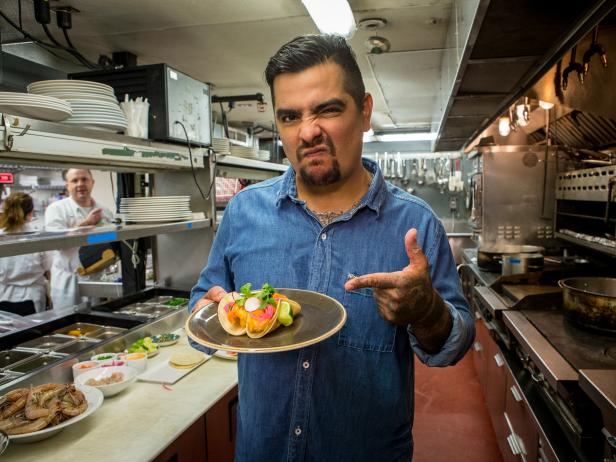 Chef Aaron Sanchez with his signature Crispy Gulf Shrimp tacos with fresh Louisiana Gulf shrimp, chili mayo, cilantro, and pickled vegetables on a corn tortilla, one of the dishes on the menu at Johnny Sanchez, a taqueria in New Orleans, a collaboration between chefs Aaron Sanchez and John Besh as seen on Cooking Channel's Taco Trip, Season 1.
Skip Bolen, 2014, Cooking Channel, LLC. All Rights Reserved.
Aarón Sánchez is back for a second season of spicy, smoky and downright delicious tacos across America. Tune in to see if he stops by your favorite joint when the show premieres on August 25 at 10pm ET.
Emmy-winning actress Sherri Shepherd is on a quest to find meals cooked lovingly by people of faith. Join her as she travels across the country and people of all ages welcome her into their kitchens with open arms, starting August 23 at 10pm ET.