Food Bloggers Cooking: David Rocco
No Roman holiday in the cards for your summer? How about a quick weekend staycation with three tribute recipes that are about as irresistible as Mr. Rocco himself...
If you've never had Spaghetti All'Ubriaco -- or drunken spaghetti -- the time is now. Full-bodied red wine, pasta, garlic -- an entire Italian love affair in a bowl. Give it a twirl.
Next up is a simple, sensational nod to panzanella. The Italian bread salad is flipped in favor of a visit to North Africa with a cous cous swap out. The photo on Nooschi - A Food Diary felt like a pure bite of summer. Better yet, it's a no-cook recipe that should charm the vegetarians in your life.
Food porn aside, we're partial to the simplicity of his walnuts, cheese and honey snack. Three natural ingredients that can be assembled in about a minute flat. Date night, anyone?
Have you tried any of David's recipes yet? Which are catching your eye?
[ If you blog, feel free to add a link to your David recipe post in the Comments below.]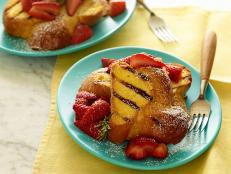 This season, try putting some char on everything you serve, whether it's appetizers, sides, desserts or even cocktails.