There's nothing better than a steaming bowl of soup on a cold winter evening, and Cooking Channel chefs are heating things up with an eclectic mixture of soup styles, from classics to fantastic twists.
Three reasons to make more soup:
The stretch factor makes them budget-friendly and good for feeding crowds. Extra guests? Throw a little more broth and veggies into the pot.
Leftover soups freeze well and make great homemade lunches if you freeze in single serving portions.
They're infinitely riff-able! Sure, it's good to have a recipe as a guide and for inspiration, but if you happen to have some extra veggies or meat hanging out in your fridge, it's a soup waiting to happen.
Rachael Ray's Week in a Day Soups
Spice Goddess' Indian-Inspired Soups
Roger Mooking's Everyday Exotic Soups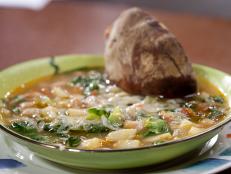 The bitterly cold month of January is optimal for enjoying vegetable-laden, creamy-pureed or hearty meat soups.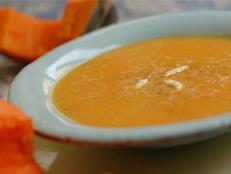 Master David Rocco's butternut squash soup recipe for Meatless Monday then customize it with your favorite flavors, like curry, blue cheese or apples.