A Great Grilled Steak Menu for Father's Day
This Father's Day, treat Dad to an afternoon of bonding over hot coals and sizzling meat — you may even be able to teach him a thing or two with these grill-master tips from Kevin Gillespie. Add a menu full of great cookout sides and a decadent chocolatey sweet, and the perfect dad date is complete. Now go get grilling!
Follow Kevin's lead to grill the perfect steak. Kevin likes using flat iron steak because it has nice marbling, it's flavorful and it's less expensive than more traditional cuts. He uses a simple marinade, adds salt and pepper and throws the steak onto a super-hot grill, just like the best steakhouses.
What's the best cocktail for Dad? Try a refreshing Tea Breeze, Southern sweet tea with a shot of Kentucky Bourbon, or browse all of our summer drink recipes.
Keep building your Father's Day Menu: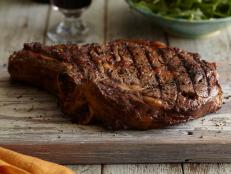 Skip the polo shirt this year and get Dad something he really wants -- gadgets to use in the kitchen. Get Cooking Channel's top 10 gadgets to get Dad this year.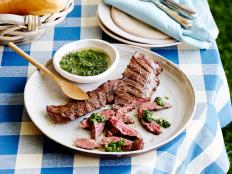 It's time to think long and hard about the perfect steak to grill for dad with our easy personality match-up.