Hump Day Snack: Sunny Daylight Saving Cake
Don't let the remnants of snow and the freezing temperatures fool you – on Sunday at 2am, the clocks will move ahead one hour to begin daylight saving time and the long-awaited countdown to spring. In the spirit of brighter mornings and longer days, we think this DIY Lemon Citrus Cake is the perfect way to spring forward and wake you up from the winter-woes. Using just two simple cookie-cutter shapes, these lemon slice decorations are easy to make, so you can spend most of your time soaking up the sun, or catching up on sleep after missing that extra hour on Saturday night. Change up the colors to make other fruits, like limes or oranges, or you can even use the citrus slices as cupcake toppers.
For more lemony, sunshine-inspired sweets, check out some of Cooking Channel's brightest stars: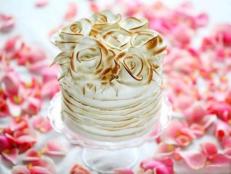 This stunning cake is bright and cheery, both in presentation and flavors. It's perfect for Mother's Day!