The Basics of Barbecue: Regional Styles
Pitmasters are passionate about who has the best 'cue. Texas brisket? Pulled pork from North Carolina? Learn a little more about regional barbecue and you'll be ready to hop in the fray.
There's one thing all barbecue has in common, and that's patience. From there, it can be hard to get anyone to agree. Dry or wet rub, vinegary or sticky and sweet — different regions have different tastes, and knowing which is which will help you earn some serious backyard cred.

Three Regional Barbecue Styles You Should Know:

1. Carolina barbecue usually means pork, cooked on a barbecue pit, slow and long with lots of smoke and low heat. Generally, hickory wood is used for the smoky flavor, and the meat cooks for around half a day. No wonder the state's signature sandwich is the pulled pork sandwich.

2. Memphis, Tennessee barbecue is all about the ribs. They come coated with either a wet or dry rub, and don't "fall off the bone," but instead tear away from the bone. Take a bite out of a Tennesse-style rib and you'll see what we mean.

3. Kansas City-style barbecue is known for its sauce. Meat comes smoked with a dry rub, ready to be dipped in a thick and sweet sauce that's flavored with tomatoes and molasses and served on the side.

Great Barbecue Recipes to Try:
WATCH: The Barbecue Trail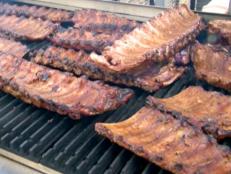 Learn how to barbecue with Cooking Channel's essential BBQ guide, including tips, advice, ideas, recipes, explaining different styles and more.