Pantry: Indian Essentials
For easy Indian cooking at home start with these basic pantry ingredients.
Indian food has a variety of different flavor profiles, depending on the subcontinent. For basic dishes, the following ingredients are good to have on hand:
Onions, garlic and fresh ginger


Mustard seeds


Garam masala


Turmeric


Frozen samosas
Indian cooking features onions, garlic and fresh ginger, ground together to make a paste, then sautéed to release the aromas. Garam masala (literally "hot spices") is a common Indian blend; it's actually the authentic version of curry powder (which Indians don't use). Frozen samosas are the perfect short-order snack; buy them in specialty supermarkets and fry them straight out of the freezer.
More Indian Pantry Ingredients
Indian Pantry
Basmati rice
Cardamom
Cinnamon sticks
Cloves (whole)
Coriander seed
Curry powder
Garam masala
Garlic
Ginger
Green chiles (fresh)
Lentils (red, yellow, black)
Oil
Peppercorns
Red chiles (dried)
Saffron
Spice grinder
Turmeric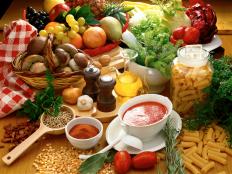 A well-stocked pantry makes whipping up delicious Italian meals a snap. Countless dishes can be made from ingredients on hand, but with a quick dash through the express line for perishables, the options are limitless.