Zucchini and Cucumber Facts
Savor summer produce like fresh cukes and zukes, fresh from the farm stand.
Cucumbers
Members of the squash family, cucumbers have been cultivated for more than 4,000 years. There are about 100 varieties of cucumber, with 3/4 of them grown for eating fresh and the rest used for making pickles. Cucumbers are usually eaten raw and, unless they're waxed, there's no need to peel before eating. Their seeds get larger and bitterer as the cucumber ages, so larger cucumbers should be seeded. Although cucumbers are available year round, they're at their peak May through August.
Ching-He Huang: Chunky Bacon and Cucumber Salad
Bill Granger: Spicy Squid Salad With Cucumber and Capers
Roger Mooking: Cucumber Feta Salad
Tyler Florence: Cool Sesame Cucumbers
Emeril Lagasse: Summery Tomato and Cucumber Salad
Emeril Lagasse: Cucumber Ribbon Salad
Emeril Lagasse: Cold Cucumber Soup With Tarragon
Aida Mollenkamp: Cucumber-Dill Yogurt Dip
Cat Cora: Tzatziki (Cucumber Yogurt)
Rick Bayless: Lime Ice With Cucumber and Mint
Darryl Robinson: Cu Collins
Browse Cool Cucumber Recipes »

Zucchini
Also called "courgettes" by many English and French speakers, zucchini were introduced to the U.S. by Italian immigrants and didn't become common until the 20th century. The now-popular summer squash ranges in color from dark green to light green and even yellow. The flesh is pale and has a delicate flavor. At the market, most zucchini are 4 to 8 inches in length, but depending on age they can be 2 inches to 2 feet, with smaller zucchini being more tender with thinner skins.

Bal Arneson: Zucchini Paneer
Jamie Oliver: Beautiful Zucchini Carbonara
Emeril Lagasse: Zucchini Fritters With Red Pepper Mayo
Emeril Lagasse: Zucchini and Summer Squash Casserole
Mario Batali: Zucchini and Ricotta Tarts
Mario Batali: Stuffed Zucchini
Mario Batali: Spaghetti With Fried Zucchini
Aida Mollenkamp: Grilled Zucchini and Herb Pizza
Laura Calder: Lazy Ratatouille
Tyler Florence: Zucchini Carpaccio
Bill Granger: Crisp Zucchini Flowers
David Rocco: How to Make Fried Zucchini Flowers
Browse 100 Great Zucchini Recipes »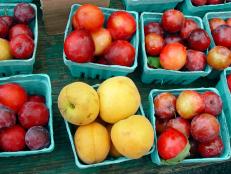 Savor juicy stone fruits—including cherries, plums, apricots, nectarines and peaches—fresh from the farm stand.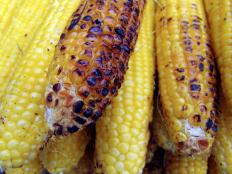 Feast on sweet summer corn, fresh from the farm stand.