Sifted: Orange-O-Lanterns, Beer Waffles + More
Get our take on the best in food news, recipes and more from around the web, including recipes for beer waffles and homemade ravioli.
5 Hot Links We're Loving:
Alton's sweet potato waffles don't call for booze, but they make for a mighty tasty fall breakfast.
If anyone could host the the best and baddest Halloween bash, it's Nadia G. Check out her hot party ideas.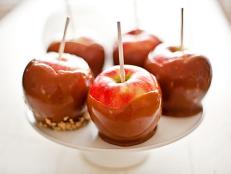 Happy Halloween! You might be full of mini candy bars already but since they are mainly a crispy fruit, there's always room for candy-coated apples.